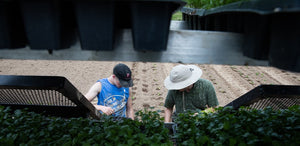 Meet our Team
We are a dedicated crew of BadAss Farmers and Herbalists. Join us as we are working together to bring the best herbs and herbal extracts directly to you!
Alex
Alex is our Field Operations Manager and head of our TagOne documention system. With a knack for understanding systems and unparalleled determination, Alex is the farm's right hand man for whatever needs to get done. Otherwise you'll probably find him working on a vintage Volkswagon restoration project.
Paula
If you've found us at an event,
there's a good chance you've met our Sales and Events Manager Paula. With over
two decades of experience in herbal and movement wellness, Paula has studied with Linda Shanahan, Maia Toll, and Tammi Sweet. Paula is bursting with valuable knowledge on herbalism and how bodies work.
Rachel
Rachel runs the processing kitchen and her unending enthusiasm for perfection is unstoppable. If you're looking for some info on bitters, Rachel is your gal. Sometimes even, iI she is not in the kitcehn you will probably find her outside looking at plants.
Zack
Zack is our lead field hand over the summer. Find him on the tractor, harvesting, weeding--whatever needs to get done in the field.
Kate
Kate plays a diverse role at the farm as kitchen hand and field hand. Born and raised in NYC, Kate sold her resturant in Brooklyn and now resides along the Delaware.
Katie
Katie is our amazing Education Coordinator, and anyone who has taken one of our programs knows and loves her.
Zak
Zak is our GO-TO for all video production needs. Zak & Bridget live in Ottsville with their pup, Yarrow.
Bridget
Bridget is on our video production team and helps with staging, script writing and post-production editing.