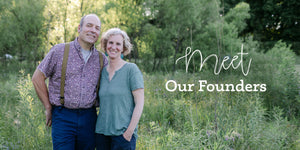 Linda & Eric
The mission of Bluestem Botanicals is to connect people with plants for food, for medicine and for a more resilient collective future. 
Founders Linda Shanahan, MSN, RN (an herbalist and registered nurse) and Eric Vander Hyde (an herb farmer and controls engineer) value ecology over economy and people over profit.  They envision a world in which people live in support of and in balance with the natural systems they depend on.
We are a Woman Owned business and since 2008, Linda and Eric have worked together every day to make sure that their mission, values and vision remain front and center, guiding every decision they make.
Linda Shanahan
Linda is an herbalist with a foundation of knowledge that sprouted in the forests of Oregon over twenty years ago. After studying with amazing teachers in the Pacific Northwest and later in the Northeast over the next decade, she supported her herbal way of life by working as a nurse in critical care, hospice and community health. 
It is at her farm where she feels
all of her worlds come together where she grows plants, makes herbal extracts, sees clients and teaches classes in apothecary building and herbal community
health.
Eric Vander Hyde
After growing up in the Mid-West, spending his twenties in the Pacific Northwest, and moving to the Mid-Atlantic Area with Linda, Eric was determined to create the community that he missed from their time in Eugene OR. Knowing that community is created through food, Eric was determined to start an organic vegetable CSA. Without experience. Without equipment. Without land.
After 10 years of vegetable and flower farming, everything shifted dramatically to make room for the flavors and aromatcis found in herbs.